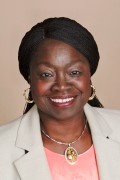 My name is Funmi Olarewaju, and I am a member of the National Association of Realtors as well as the Youngstown Columbiana Association of Realtors.
I received my real estate license in 2005. I am also a licensed School Treasurer in the State of Ohio. Before entering the business world I was an educator and taught briefly with the Youngstown City Schools as a permanent sub.
I have a BA in Interpersonal Communication from Trinity International University, Deerfield, Illinois; and an MBA in Finance from Dominican University River-Forest, Illinois.
Over the years, I've assisted individuals, families, and investors purchase properties in the Youngstown area under the brokerages of McKinney Realty and Volpini Realty.
Currently, I am the Coordinator of Homeownership program at Youngstown Metropolitan Housing Authority (YMHA), a first–time homebuyer education instructor, and a HUD-certified housing counselor, providing one-on-one financial and pre/post purchase counseling. I love my job. It is truly exciting and fulfilling to successfully get clients through the home buying process!
I am married to Samuel Olarewaju and together we have three adult children and two lovely grandchildren. My hobbies include volunteering in various ways to address different needs in our community of Youngstown. To that end I am a member of ACTION. I also love to cook and travel.