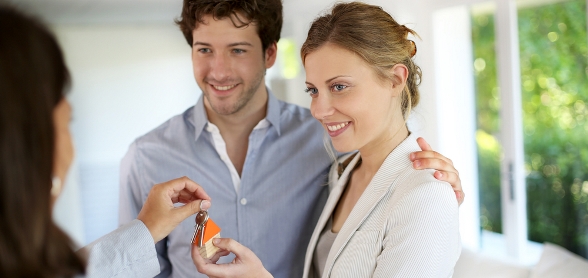 If you are a First Time Home Buyer, or if it's just been a while since you purchased your home, we hope you will find this article informative and useful. Here we explain each step in the home buying process and also provide some links to other sites that will help you by providing more in-depth explanations of certain terms and processes.
Clicking on any one of the steps will take you right to the place on the page where that step is explained, just in case you want to skip around. If you want to read them in order, then just continue to scroll down the page and it's all there.
Here are the steps in the home buying process:
1. What is the Right Home For Me?
Are you looking to purchase a home? Before thinking about which houses to view, think about your lifestyle, your current and anticipated housing needs, and your budget. It's a good idea to create a prioritized list of features you want in your next home. Finding the right house involves striking a balance between your "must-haves" and your "nice-to-haves."
To start, consider your lifestyle. If you love to cook, you'll want a well-equipped kitchen. If you're into gardening, you'll want a yard. If you need an office at home, you may want a room for a separate library or work space. If you have several cars, you may require a larger garage. Use this list as your search guide.
Next, think about what you might need in the future. As you consider your housing needs, it's important to consider how long you may live in your home. If you're newly married, you might not be concerned with a school district right now, but you could be in a few years. If you have aging parents, you may want to look at homes that offer living arrangements for them as well as you.
It's important to think about your new home's location just as carefully as you do about a house's features. Location is a huge part of any move. In addition to considering the distance to work, you need to evaluate the availability of shopping, police and fire protection, medical facilities, school and day-care, traffic and parking, trash and garbage collection, even recreational facilities.
Perhaps the most important decision is deciding on the type of home you want. Do you want a condominium or a co-op? A town house or a detached single-family home? Do you want brick, stone, stucco, wood, vinyl siding, or something else? Do you prefer a new home or an older one?
Through all of this, make sure to talk to your CENTURY 21 Lakeside Realty professional about where you want to live. While buyers generally will use the Internet to gain browse for homes, it is still a good idea to enlist an agent early on to help you with the planning stages. The agent will be available to analyze data, answer questions, and share their professional expertise.
CENTURY 21 Lakeside Realty professionals have the expertise to help clients narrow down their choices by sharing market trends and local information.
2. How Much Home Can I Afford?
Now that you're clear about what types of home you are looking for, the next step is figuring out what type of home you can afford. A review of your income, savings, monthly expenses, and debt will be necessary.
Early on in the process, and prior to viewing any homes, you'll want to get pre-qualified for a mortgage loan. A pre-qualification will determine how much you can afford. It enables you to move swiftly when you find the right home, especially when there are other interested buyers. It also indicates to the seller that you are serious and can afford to buy the property.
A pre-approval is done by a mortgage lender that tells you the amount you'll be able to finance through a loan and what your monthly payment will be. When you find a home to buy, a pre-approval also reassures the seller that you have the financial means to purchase his or her home.
Knowing what you can afford is the first rule of home buying, and that depends on how much income and how much debt you have. The price you can afford to pay for a home will depend on several factors, such as:
gross income
the funds you have available for the down payment, closing costs and cash reserves required by the lender
your debt
your credit history
the type of mortgage you select
current interest rates
Another figure lenders use to evaluate how much you can afford is the housing expense-to-income ratio. It is determined by calculating your projected monthly housing expense, which consists of the principal and interest payment on your new home loan, property taxes and hazard insurance (also known as PITI), and then determining what percent that total expense is of your gross income.
Your CENTURY 21 Lakeside Realty professional will assist you with finding the right mortgage professional who will determine that specific loan program that best fits your unique situation. Your income and your debts will typically play the biggest roles in determining your price range. It's simple to make an estimate, just run the numbers for yourself using our Home Financing Calculator.
3. Which Community and Neighborhood Should I Choose?
When you purchase your new home, you will be investing in your community. You'll spend a significant amount of time and money supporting the schools, community organizations and commercial centers in the surrounding areas. Before you make the final decision, take a good look at the location and make sure it fits your needs.
Evaluate the proximity to other important locations in your life. How long will your commute time be? Is there a hospital or doctor's office nearby? What about schools, childcare, shopping, family and friends?
A new home could lend itself to public transportation options or car-pooling. Depending on the type of community, you may be able to find alternative methods of transportation. Take the time to drive from the new home to your commuting destinations to understand the impact it will have on your lifestyle.
Understand the school district you'll be moving in to. Even if you don't have children in the school system now, you may some day. The district reputation could positively or negatively impact the selling price of your future home as well.
Drive around the neighborhood at different times of the day and night on multiple days of the week to observe activity/noise levels. Discovering that barking dog next door or noisy road conditions will eliminate unneeded stress from a hasty decision.
Buying a new home is about more than the structure and property. It's about your new lifestyle as well.
4. What if I Already Have a Home?
Buying a new home and selling an existing home can go smoothly with careful planning.
Before putting your house on the market or committing to buying a new one, take a look at the prices of houses in the areas where you'll be both selling and buying. You will also need to consider whether the current real estate market conditions will affect whether a seller will consider making a commitment to you as a buyer if your house is not yet sold. Talk with your CENTURY 21 Lakeside Realty professional about the best way to proceed given the current market conditions.
Since you're both a buyer and a seller, you'll need to protect yourself in your weaker role while letting your stronger role take care of itself. What if you're unable to perfectly time the sale of one house with the purchase of another? You may own no houses for a time, in which case you'll need money in the bank and a temporary place to live. Or, you may own two houses at once. That's why it's important to have a back-up plan.
Selecting an agent to help you find your dream home is an important first step. A good agent will help you develop your priorities, listen to your concerns, and answer all your questions.
When you're ready to visit houses, your CENTURY 21 Lakeside Realty professional will arrange showings of properties that meet your criteria. They will arrange the showings and track the properties you've seen.
You should identify the homes that are your favorites, what you like about them, and what you don't like. Bring your camera along so you can record what you see.
6. Working With a Real Estate Agent
Buying a home is one of the most important decisions you will make. That's why it's in your best interest to choose an experienced real estate agent who listens to and understands your needs, and works in the area where you want to live. When you choose a CENTURY 21 Lakeside Realty agent, you're dealing with an experienced professional who understands your concerns and will provide you with the personalized service that makes all the difference.
What should you expect in your first meeting with a real estate agent? Typically, the agent will talk to you about the neighborhood where you want to live, home prices, schools, and the surrounding commercial and residential areas.
7. Making an Offer to Purchase
Once you've made your decision to make a purchase offer, it's time to get started with the financial and contractual side of the purchase. Let your CENTURY 21 Lakeside Realty professional guide you through this process. Because you and the seller have different goals, rely on your agent's experience and expertise. He or she can bring order and calm to the process and will know what questions you may not know to ask to help you reach a favorable outcome.
Multiple home purchase offers on the same home are not uncommon, so you may only get one chance to make an offer that the seller will consider. That's why it's important to think carefully about your strategy. In most cases it is better to have your real estate professional negotiate the offer. If you have any personal interaction with the homeowner, don't give out any information about your move, your current housing status, financial status or your feelings about their property - positive or negative. This could hurt you in future negotiations.
How Much Should You Offer?
Ask your CENTURY 21 Lakeside Realty professional to provide you with a list of what other homes have sold for in the area. Consider how much money you might have to put into repairs or renovations. These considerations are important factors to consider how much you're comfortable spending.
Also, it helps to know the features that help or hurt resale. In some areas, a swimming pool actually detracts from a home's value and makes it harder to sell. In neighborhoods with two-car, attached garages, a single-car or detached garage may affect the home sale and future value.
In addition to sale prices for other homes, there are several ways you can determine a good amount to offer:
The condition of the house. Is the home in move-in condition, in need of paint and other cosmetic improvements, or a fixer-upper that needs some real work?
The market. If you are in a buyer's market — where there are more homes for sale than there are people to buy them — prices are probably stable or falling. If you are in a seller's market — where there are more buyers looking for homes than there are homes for sale — prices are probably moving upward.
Your ceiling. If you've gotten a credit pre-approval, you know how much you can borrow for your home purchase. Of course, you may not be comfortable paying as much as you've been approved to borrow, so think carefully about your financial situation before making an offer.
Next, decide how much you are willing to pay for a home. Remember, the advertised price of a house is just a starting point – it may take quite a bit of negotiating to arrive at a final cost.
Buying a Home With Cash
Though most buyers don't buy a home with all cash, anyone considering such a move may be wondering how. Because all cash buyers sidestep the time-consuming loan qualification process, the deal can close very quickly. The primary advantage of buying a home with all cash is completely avoiding mortgage interest. Buyers also save money that would be spent on loan origination fees, required appraisal, some closing costs and various other charges imposed by the lender.
At the same time, all-cash buyers should consider potential pitfalls of the transaction. Buyers who want to use the home as their primary residence lose out on many of the tax advantages available to homeowners with conventional loans.
If you can afford to pay cash but are concerned about price appreciation, you may be better off obtaining some financing. Also, look at other investments that are paying off and determine if spending cash on a home is worthwhile.
A mortgage is a loan you take out to finance the purchase of your home. It is also a legal contract stating that you promise to make a monthly payment until your loan is paid off.
Today, there are hundreds of different programs to choose from, but don't let that overwhelm you. Most of the home loans are variations of a fixed-rate mortgage and adjustable-rate mortgage. Knowledge of how these mortgage programs work will help you to understand the majority of available loan options. You may qualify for a new loan without even selling your current home. It's simple to run the numbers for yourself on our Mortgage Calculator.
Government-guaranteed mortgages: Both the Federal Housing Administration (FHA) and Department of Veterans Affairs (VA) offer loans to help homeowners with income restrictions or those who are currently in the military or a veteran respectively. Typically these loans have lower down payment requirements and less restrictive qualifying guidelines, but they do require you to meet certain criteria. Always check with the FHA or VA for complete details and if you think you may qualify for this type of loan, inform your lender.
Home equity mortgage: A home equity mortgage, like a second mortgage, lets you tap into a percent of the appraised value of your home, minus your current mortgage balance. Like a line of credit, you will not be charged interest until you actually make a withdrawal against the loan, although you will be responsible for paying closing costs. Of particular importance: make sure you understand the terms of the loan. If, for example, your loan requires that you pay interest only for the life of the loan, you will have to pay back the full amount borrowed at the end of the loan period or risk losing your home.
Reverse annuity mortgages (RAMs): A reverse annuity mortgage is a special type of loan available only to older homeowners with full or nearly full equity in their homes. Such owners can borrow against the equity they have built up over the years, but no repayment is necessary until the borrower sells the property or moves elsewhere. If the borrower dies before the property is sold, the estate repays the loan (plus any interest that has accrued). These loans have become increasingly popular. If you believe you qualify for such a loan, be sure to have the document reviewed by an attorney or financial advisor.
Home equity line of credit: A home equity line of credit is a form of revolving credit in which your home serves as collateral. Because the home is likely to be a consumer's largest asset, many homeowners use their credit lines for major expenses such as education or medical bills. With a home equity line, you will be approved for a specific amount of credit, and this is the maximum amount you may borrow at any one time under the plan. The interest rates on these loans are usually variable.
Bridge loan: A bridge loan is short-term loan that is used until a person or company secures permanent financing or removes an existing obligation. This type of financing allows the user to meet current obligations by providing immediate cash flow. The loans are short-term (up to one year) with relatively high interest rates and are backed by some form of collateral such as real estate or inventory. Bridge loans are also known as interim financing, gap financing or a swing loan. As the term implies, these loans "bridge the gap" between times when financing is needed. They are used by both corporations and individuals and can be customized for many different situations. For example, let's say that a company is doing a round of equity financing that is expecting to close in six months. A bridge loan could be used to secure working capital until the round of funding goes through.
Fixed-rate mortgages: A fixed-rate mortgage keeps the same interest rate for the life of the loan. For most people, especially first time homebuyers, this is the best option because you pay the same monthly principal and interest rate. A fixed-rate mortgage means the interest rate and the payments remain the same for the entire life of the loan (taxes, of course, may change.) Advantages include consistent principal and interest payments, making this loan stable. In other words, your rate won't change, so you don't need to worry about market fluctuations.
Disadvantages include a possibly higher cost. These loans are usually priced higher than an adjustable-rate mortgage. If rates in the current market are high, you're likely to get a better price with an adjustable-rate loan.
Adjustable-rate mortgages: An adjustable-rate mortgage (ARM) is one that the interest rate changes over the life of the loan - according to the terms specified in advance. The interest rate fluctuates based on several money market indexes, which cause the cost of funds for lenders to vary. All ARMs are amortized (paid down) over 30 years. With ARMs:
The initial interest rate is usually lower than with a fixed-rate mortgage.
The monthly repayment would also be lower.
The interest rate may be adjusted (up or down) at predetermined times.
The monthly payment will then increase or decrease.
ARMs are usually priced lower than fixed-rate mortgages so you can increase your buying power and lower your initial monthly payments. If interest rates go down, you'll enjoy lower payments. Usually an ARM is the best choice for homeowners who plan to relocate (for example, with their company or the military), or for those who are purchasing their first home and plan to be in the property only for three to five years.
Conversely, monthly payments could increase if monthly payments if interest rates go up. Keep in mind that ARMs are best for homeowners who aren't planning on staying with a property for a long period. If you're on a fixed income, an ARM (especially a short-term ARM) may not be your best choice.
New construction loan: If you are working with a builder in a sub-division or development you may be able to obtain a standard mortgage loan. But if you're hiring contractors, electricians, plumbers, and painters, you will probably need a construction loan, which provides funds to pay subcontractors as work progresses.
Assumable loans: Assumable loans permit one borrower to take over a loan from another borrower without any change in the loan terms. Such loans still exist but they aren't very common or popular (for buyers) in a low-interest-rate environment. Plus, today new assumable loans are almost always adjustable rate mortgages. To find out if a loan is assumable, look to the loan agreement to determine if it is assumable by someone else, then talk to the lender about specific requirements based on the value of the home
Your CENTURY 21 Lakeside Realty professional will recommend mortgage companies to evaluate based on your unique situation. Don't be afraid to ask any questions you feel necessary and if anything strikes you as odd make sure you comment on it. Make sure you ask for references from satisfied customers.
Most home buyers arrange financing before shopping for a home and most lenders will pre-approve them for a certain amount. Pre-approval helps you to focus on homes that fit your plans and budget. Nothing is more disheartening for buyers or sellers than a deal that falls through due to a lack of financing. And, most seller's agents advise them to not accept an offer on their home unless it is accompanied by a pre-approval letter.
Mortgage Interest Rates
Some lenders are willing to negotiate on both the loan interest rate and the number of points. Most established lenders set their rates like large corporations set the prices on their goods. However, it pays to shop around for loan rates and know the market before you talk to a lender. You should always look at the combination of interest rate and points and get the best deal possible.
Locking in a mortgage rate with a lender is one way to ensure that same rate will be available when you need it. Lock-ins make sense when borrowers expect rates to rise during the next 30 to 60 days, which is the usual length of time lock-ins are available. A lock-in given at the time of application is useful because it may take the lender several weeks or longer to prepare a loan application (though automated loan practices are cutting this time dramatically). However, some lenders require borrowers to pay lock-in fees to assure particular rates and terms. Be sure to check that the rates and points are guaranteed and that your lock-in period is long enough. If your lock-in expires, most lenders will offer the loan based on the prevailing interest rate and points. Lenders may have preprinted forms that set out the exact terms of the lock-in agreement. Others may only make an oral lock-in promise on the telephone or at the time of application.
APR: Annual Percentage Rate
The Annual Percentage Rate (APR) is the relative cost of credit as determined in accordance with Regulation Z of the Board of Governors of the Federal Reserve System for implementing the federal Truth-in-Lending Act. The APR is the actual yearly interest rate paid by the borrower, figuring in the points charged to initiate the loan and other costs. The APR discloses the real cost of borrowing by adding on the points and by factoring in the assumption that the points will be paid off incrementally over the term of the loan. The APR is usually about 0.5 percent higher than the note rate.
Points
A point is calculated as one percent of the loan amount. Points that you get charged are additional to the interest rate that is charged on the loan and the point charges varies from lender to lender. A lender often makes his fees by charging points or by negotiating a lower interest rate.
Your Credit Report History
A credit report is used by lenders as one measure of the risk and a borrower's likelihood to repay. There are numerous types of credit report issues that would cause a lender to reject your application for a loan, including: missed credit card payment(s), default on a prior loan, bankruptcy in the past seven years, or non payment of taxes. Other black marks on a credit report include any judgment (perhaps for non-payment of spousal or child support) or any collection activity.
If you feel that your credit report is wrong, experts say it's best to take it up with the organization or company claiming you owe them money. But if you've been late paying your bills, regroup by paying in full and on time for six months to a year to prove to the lender that the late payments were an aberration.
You can order a copy of your own credit report by calling the three major credit reporting agencies: Experian at (800) 311-4769, Equifax at (800) 685-1111 and Trans Union at (312) 408-1050. Please note that every time your credit report is ordered, there are points deducted which could lower your overall score.
Negative Credit Rating
There is no fast and easy way to repair damaged credit that took months or years to occur. The law allows negative information to appear on an individual's credit report from seven to 10 years. Credit problems are the main reason would-be home buyers are denied a loan. The first step to clearing up your credit is to get a copy of your credit report to make sure that the negative credit information is indeed accurate. Some states now have mandatory timelines to respond to your inquiry or remove the blemish.
For a copy of your report, contact one of the three major credit reporting agencies: Experian at (800) 311-4769, Equifax at (800) 685-1111 and Trans Union at (312) 408-1050. The bureaus should provide instructions on how to read the report and how to dispute any inaccuracies it contains. Please note that every time your credit report is ordered, there are points deducted which could lower your overall score.
If your credit report is correct, take care of any outstanding delinquent obligations first. Lenders usually won't consider any borrower who has had a delinquent payment in the past year.
Private Mortgage Insurance (PMI)
Private mortgage insurance, or PMI, insures the lender against a default. It is required when the borrower is making a cash down payment of less than 20 percent of the purchase price. PMI costs vary from one mortgage insurance firm to another, but premiums usually run about 0.50 percent of the loan amount for the first year of the loan. Most PMI premiums are a bit lower for subsequent years. The first year's mortgage insurance premium is usually paid in advance at the close of escrow, and there is usually a separate PMI approval process.
Lenders generally turn to a list of companies with whom they regularly work when lining up private mortgage insurance. In most cases, PMI can be dropped after the loan to value ratio drops below 80 percent. The Homeowners Protection Act requires PMI to be dropped when the loan-to-value ratio reaches 78 percent of the home's original value AND the loan closed after July 29, 1999. For other loans, find out from your lender what procedure to follow to have PMI removed when your equity reaches 20 percent. For homeowners who have improved their properties and believe that their equity has increased as a result of these improvements, refinancing the property at a loan-to-value ratio of 80 percent or less is another possible way of eliminating PMI payments.
A growing number of private lenders are loosening up their requirements for low-down-payment loans. But private mortgage insurance, or PMI, usually is required on loans with less than a 20 percent down payment.
How to Apply for a Mortgage Loan
Your chances of obtaining a mortgage really depend on all the information that will be contained in the credit report. So, it's a good idea to get your credit report, before you apply for a mortgage, and correct errors. If there are any inaccuracies you don't know about, this could cost you thousands of dollars in extra interest or even cause a denial of credit.
When you apply for a mortgage, the lender will want a lot of information about you (and, at some point, about the house you'll buy) to determine your loan eligibility. Here's what you'll need to provide:
The name and address of your bank, your account numbers, and statements for the past three months
Investment statements for the past three months
Pay stubs, W-2 withholding forms, or other proof of employment and income
Balance sheets and tax returns, if you're self-employed
Information on consumer debt (account numbers and amounts due)
You'll sign authorizations that allow the lender to verify your income and bank accounts, and to obtain a copy of your credit report. If you've already made an offer on a house or condo, you'll need to give the lender a purchase contract and a receipt for any good-faith deposit that you might have given the seller.
Once you apply, your lender will verify all the information you've provided. This is a loan approval process and it can take one to eight weeks, depending on the type of mortgage you choose and other factors that will affect your approval such as fulfillment of contract contingencies.
As your mortgage application is processed and finalized, your lender is required by law to give you several documents. Within three business days of applying for the loan, the lender must inform you of the mortgage's effective rate of interest, or annual percentage rate (APR). If relevant, the lender must also give you consumer information on adjustable rate mortgages. In addition, the lender is required to give you an itemized good-faith estimate of your closing costs and a government publication that explains those costs.
Since the home that you're purchasing will serve as collateral for the loan, the lender will order a market value appraisal of the property. The lender will not lend you more than a certain percentage of the value of the property. If your down payment will be less than 20 percent of the value of the property, your loan will require private mortgage insurance and the lender will obtain insurer approval. If the lender has not already done so as part of a pre-approval process, it will verify your employment and bank accounts as well as obtain and evaluate your credit report.
Want more information? Contact Us for advice and to put you in touch with a reputable loan officer.

10. What Happens from Accepted Offer to Closing?
Home Inspections: Getting a home inspection is a very important part of the purchase of a home. There are many potential problems that can be discovered during this period. These include a leaky roof, termite damage, a foundation problem, and wall cracks, to name a few. These problems happen all the time. The difference between closing on your dream home and starting the process all over again is what occurs during the negotiations between you and the seller.
Your CENTURY 21 Lakeside Realty professional can help make these discussions go more smoothly. You will also have the option of a walk-through before the closing. This is your last chance to make sure that all of the items that you have agreed upon were completed to your satisfaction.
Homeowner's Insurance: Protecting your new home with insurance is a must. How well you do that depends on the details of your policy. And while you are not legally required to have homeowners' insurance, mortgage lenders stipulate that you do. A standard policy will suffice in most instances. It protects against several natural disasters and catastrophic events. However, it will not guard against earthquakes, floods, war, and nuclear accidents. The policy can be expanded to include these disasters as well as coverage for such things as workers' compensation. In fact, the lender may require that you purchase flood or earthquake insurance if the house is in a flood zone or a region susceptible to earthquakes. You also can increase coverage beyond the depreciated value of personal property such as televisions and furniture by purchasing a replacement-cost endorsement.
Home Buying Process - Timeline and Paperwork: The closing meeting is where ownership of the home is officially transferred from the seller to you. The closing is a formal meeting typically attended by the buyer, the buyer's agent, and the closing agent. First, the closing agent reviews the settlement sheet with you and answers any questions you have prior to you signing the document. Then the closing agent asks you to sign the other loan documents. Evidence of required insurance and inspections is also presented (if it wasn't previously given to the lender). After that you submit payment to cover the closing. If the lender will be paying your annual property taxes and homeowners' insurance for you, a new escrow account (or reserve) is established at this point.
After the meeting, the closing agent officially records the mortgage and deed at your local government clerk's office or registry of deeds. This legal transfer of the property may take a day or so depending on the time of day the closing takes place and whether the courthouse is open the following day. The closing agent usually will not disburse the funds to everyone who is owed money from the sale (including the seller, real estate professionals, and the lender) until the transaction has been recorded. It is at the point of deed recordation that you become the official owner of the home.
11. The Final Step: Moving In!
Six to Eight weeks prior:
Purchase or rent moving supplies: tape, markers, scissors, pocketknife, newspaper, blankets, moving pads, plastic storage bins, rope and a hand truck. Free boxes can usually be obtained at a local supermarket, but consider purchasing wardrobe boxes for moving clothes.
Have a garage sale to clear out unwanted items and plan accordingly. Consider donating unwanted items.
Keep a detailed record of all moving expenses. Your costs may be tax deductible depending on the reasons for your move.
Two weeks prior:
Hire a reputable mover or rent a moving truck. Be sure to get referrals or references, check with the Better Business Bureau, get estimates, purchase moving insurance.
Two weeks before moving day, contact your telephone, electric, gas, cable/satellite, refuse and water companies to set a specific date when service will be discontinued. Contact utilities companies in your new town about service start dates, including Internet & long distance telephone services.
Notify healthcare professionals (doctors, dentists, veterinarians) of your move and ask for referrals and record transfers.
Register children for school and ask for school records to be transferred.
Notify lawn service, cleaning and security companies when service should be terminated.
Advise the post office, publications and correspondents of change of address and date of move.
Check your homeowner's insurance and make arrangements for new coverage.
Moving Day:
Have tools handy for breaking down beds and appliances.
Move valuables (jewelry, legal documents, family photos & collections) yourself - don't send them with the moving company. Make sure you have a complete Home Inventory of all your possessions.
Give every room a final once over. Don't forget to check the basement, yards, attic, garage and closets.
Have the final payment for the movers and money for a tip
Don't forget to check in with your agent. He or she may be able to provide useful local advice, and/or referrals.