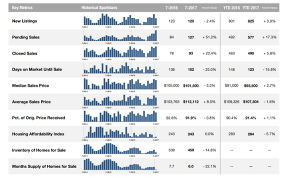 Who would have ever thought the trend of dropping housing supply and increasing sales prices would continue for so long? We are a few years into this seller's market, and there are no signs of it changing any time soon.
Multiple-offers, and offers over the asking price, are fairly commonplace in the more desirable areas and price ranges. Good homes are selling very quickly, and the housing market keeps churning along in spite of lackluster new construction activity. Recent numbers indicate that low inventory levels are finally showing up in sales activity. It was bound to slow down at some point as fewer and fewer homes are available to buy.
Let's take a closer look at our local housing statistics in Mahoning County for the first 7 months of 2017 compared to the same period last year.
Inventories of available homes for sale continue to drop, a whopping 27.9% since July of 2016. Take a look at this chart showing historic monthly inventory levels in Mahoning County since 2004. Pretty dramatic drop! Although in 2007 there were more than 3,000 homes for sale in Mahoning County, our 'old normal' (over the past 20 years or so) was somewhere in the 2,000-2,400 range. Who knows what the 'new normal' will be, or if there will be a new normal :-) Buyers definitely have limited choices. They are either forced to make more compromises, or they are waiting in the wings for the 'right' home to come on the market.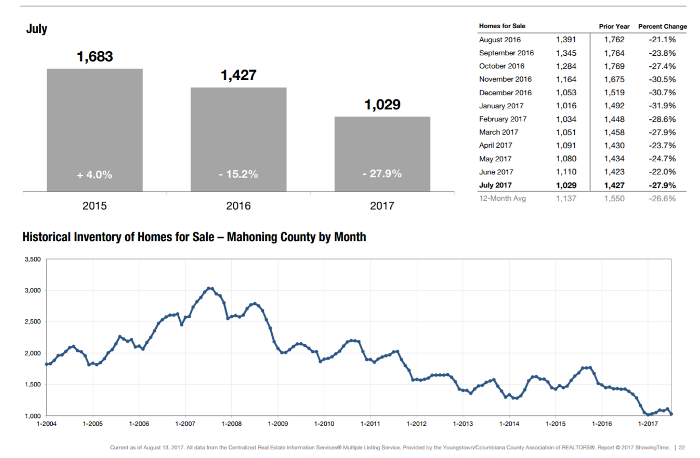 There were 1,514 closed sales in Mahoning County for the first 7 months of this year, compared to 1,600 last year, down 5.4%. There are plenty of ready, willing and able potential home buyers out there, but the selection of homes is sparse, which has been a major factor causing many buyers to wait to buy.
The median sales price for all of Mahoning County rose 3.5%, from $84,800 in 2016 to $87,750. More dramatic changes in median sale prices have happened in specific communities and neighborhoods, so if you are making any important decisions regarding your home, a drill-down into what has happened in your specific community and neighborhood is in order. Value determination of real estate is VERY local. Appraisers do their best to find comparable properties within 1 mile of your home, if possible, to come up with their valuation.
Market conditions are very good now for home sellers. If it is also a good time for you to sell, please contact us.
For a complete Market Indicator report of Mahoning and Columbiana County with all the charts and stats, follow the link: http://www.crismls.com/shared/fs/0383/company/Columbiana-Mahoning_MMI_2017-07.pdf
Source: Current as of August 13, 2017. All data from the Centralized Real Estate Information Services® Multiple Listing Service. Provided by the Youngstown/Columbiana County Association of REALTORS®. Report © 2017 ShowingTime.