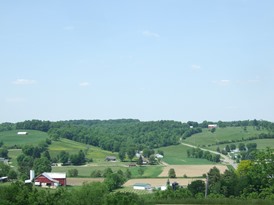 Founded in 1806, Green Township is located in the southern part of Mahoning County and covers an area of 31.2 square miles. As of the 2010 census, Green Township had a population of3,532 people, which represents a growth of 3.21 percent since the census of 2000. Green is a predominantly rural township with large farms and family mini-farms, interspursed among homes on multi-acre lots. Part of the village of Washingtonville is located in southeastern Green Township, and the unincorporated community of Greenford lies at the center of the township.
Green Township students attend the South Range School District. The elementary, middle and high schools are located on a new campus, built in 2010, on Columbiana-Canfield Road in Beaver Township..
Coy Memorial Park is located in Green Township on State Route 165 one mile west of Greenford. The park has picnic pavilions with amenities, restrooms, a basketball court, baseball field and a playground.
Javascript is required to view this map.