Our Vision
Extraordinary Service. Greater Purpose
Our Identity
We are a full-service real estate company committed to enhancing the lives of our agents, staff and their families through extraordinary service, uncommon generosity and unwavering commitment to excellence.
Core Values
| | |
| --- | --- |
| Be Industry Influencers and Disruptors | We Do the Right Thing |
| We Believe in Our Agents and Their Dreams | We Do What We Say We Will Do |
| We Practice Open and Real Communication | Empower Others to Succeed |
| Inspiring Company Culture | We Innovate and Constantly Improve |
| We Are Accessible | We Pull the Industry Forward |
Our full-time staff is there when you need them. As a member of the CENTURY 21 Lakeside Realty team, you have 7-days-a-week access to the Owner/Manager with 30 years experience, and to the Director of Education/Manager for both scheduled and one-on-one private instruction. Weekly training is held locally, and you can take advantage of unlimited online education and corporate subsidized designations.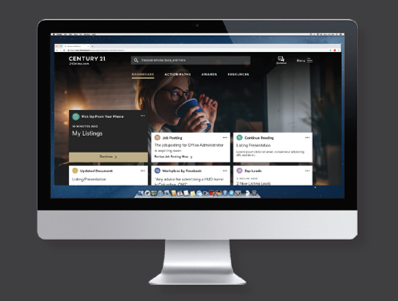 The Century 21 tools and resources designed to set you apart from the competition are unsurpassed. Everything you need to manage and grow your business is provided to you as a member of the CENTURY 21 Lakeside Realty team.You have access to our online system from your desktop, tablet, or smart phone where you can view your listings, manage leads, access our CRM (Customer Relationship Management) system, read the latest industry news, launch powerful marketing tools, and so much more.
As an associate you have the strength of five different CENTURY 21 branded websites behind you. Your listings will automatically be populated to century21.com, century21espanol.com, c21global.com, and if the property qualifies, century21.com/finehomes.
In addition to our CENTURY 21 websites, your listings appear on 200+ websites nationwide! The C21 Syndicated Listings Program distributes listings to hundreds of websites to expand online reach and drive leads.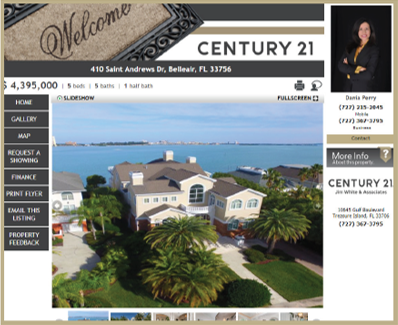 We create a property video using your pictures and syndicate it to the worlds second largest search engine: YouTube!
Increase online listing exposure and generate more leads with Unique Property Sites. These professionally designed individual property websites are automatically created for each of your listings.
Expand your online exposure to clients and improve your business with your own high-quality website and mobile app available in English or Spanish, leveraging century21.com tools and resources, and available for affiliated agents and teams for both residential and commercial markets. This platform allows your clients to search for property via mobile, tablet or desktop, and you can keep track of their activity through the website dashboard.
Keep your name top of mind with prospects and clients with Business Builder, a comprehensive system that enables you to design, create and manage marketing campaigns, actively engage your contacts and clients, and cultivate relationships from the initial lead to a successful home sale.
As a CENTURY 21 Lakeside Realty associate you have access to ToolkitCMA, a cloud-based software that provides real estate professionals a way to quickly and easily create listing proposals, marketing presentations with photo CMAs, and property flyers for all listing and selling occasions. The software is easy to use and automatically merges comparable property and picture content from our MLS into presentations, property flyers, and buyer tour documents.
Promote your listings easily on social media to get measurable business results. The Social Ad Engine is a robust platform you can use to create Facebook® and Instagram® campaigns that increase awareness of your listings, drive traffic to your websites and generate new business leads. Every campaign is based on your business goals, optimized using Facebook® algorithms and ready to publish within minutes.
Let's not forget about agent recognition. The Century 21 System has many pretigious awards for top performers and national events, such as the Top Agent Retreat, Leadership Summit, and the International Convention each year to recognize the accomplishments of associates. They also conduct various regional and learning events to help you grow your business. At the office level, we have contests, awards, and lots of fun and creative ways to inspire you to be your best.
Through our affiliation with Davis College, we are able to offer Real Estate Licensing and licensing exam prep classes to you at a great price! Their comprehensive package includes a set of online interactive courses that teach you everything you need to sit for your Ohio real estate license exam. Learn more about Davis College's programs on their website.
If you are interested in joining the CENTURY 21 Lakeside Realty team, reach out to George Berick, Owner/Manager with all your questions or to schedule a confidential personal meeting, or complete the form below and we will contact you.