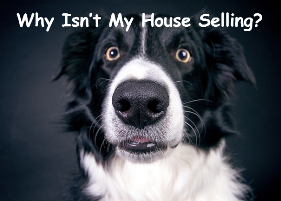 Did your listing expire without selling? Is everybody else's home selling but yours? If you're serious about selling, then you're probably pretty frustrated. It's time to take a fresh approach.
There are reasons your home has not sold that are unique to your situation. Here are the 8 most common reasons a house remains unsold as well as actions you can take to get it sold.
1. THE PRICE IS WRONG. If your house isn't selling, then it is not priced properly for the current market. There are plenty of buyers that are looking for homes of all sizes, amenities and condition. Your home needs to be priced where a ready, willing and able buyer will see the value. Pricing your home at or near the actual market value is the best strategy for getting your home sold at the best price within a reasonable time frame.
The actual market value is determined by comparing your home to similar homes that are currently on the market (your competition), and similar homes that sold recently. Adjustments must be made for condition, location, and features among the comparable sold homes. If your home is in need of repair or upgrading, inside or out, then the money it will take to bring your house in line with others in your area must be taken into consideration in the price. This is an oversimplification of the process of determining the market value and the best listing price, but these are the most important determining factors.
2. YOUR HOME NEEDS UPDATED. Is your house in need of updating? Does your decor look like your grandmother's house? Perhaps you still have that 1950's kitchen and bath, and your flooring, walls and decor are old and won't appeal to today's buyers. If that is the case, then you have to price your home accordingly. To be sure, when buyers walk through your house they are adding up kitchen and bath remodels, new flooring, paint, lighting fixtures. Even if you believe your price is low, the cost to bring it up to today's standards may be pricing you out of the market.
You can't afford to do a major remodel to get the best price for your home? What can you do about the situation? Well, you can take stock of each room in your house and note the inexpensive things that can be done to make it more appealing. New light fixtures and a fresh coat of paint on the walls using appealing neutrals will do wonders. Color is important, and you want to paint in colors that buyers will love. Our advice is to use colors in Sherwin-Williams HGTV Neutral Nuance collection or the white, gray & tan hues in the Traditional Twist collection. If you have old draperies, replace them with blinds or shutters to let in more light and modernize the space.
If you have hardwood floors under the carpeting that are in good shape you should remove the carpeting to expose the hardwood floors. Buyers love hardwood floors, even if they are not perfect. If your kitchen and bath cabinets are looking bad, painting them can be a great inexpensive option. The results of painting cabinets can be remarkable. Visit HGTV's website to get some great ideas of how you can transform your kitchen cabinets with little cost: http://www.hgtv.com/remodel/kitchen-remodel/painting-kitchen-cabinets.
Your agent can help you make a list of projects and assist you with paint color choices and decor.
3. YOUR HOME IS IN ILL REPAIR. Have you been ignoring obvious repairs that need done? When faucets are dripping, windows are cracked, and the woodwork has been chewed by the dog, buyers get the impression that you don't care about your house, and that there are probably lots of other issues that they can't see. Water stains on the ceiling, peeling interior paint, or water stains around windows or doors should be repaired before putting your home on the market. Any signs of water damage is a huge turn-off to potential buyers and can keep a home on the market for a very long time.
What you should do is fix all the items that are in need of repair. Buyers will always think it costs more than it actually does to make repairs. Of course, it helps if you can do most of the little things yourself, but if you can't, find a handyman that can make quick work of a laundry list of minor repairs. Your agent can help you find reputable professionals to get the work done.
If your house is a fixer-upper, then it needs to be priced accordingly so that an investor/house flipper can fix it up, sell it, and make money.
4. YOUR HOME IS NOT READILY ACCESSIBLE TO BUYERS. Have you missed a lot of showings because of your inflexibility? You should make your home as accessible and available as possible for real estate agents and their buyers to view. If your house isn't getting shown, then it is not going to get sold.
Allow your agent to install an electronic lockbox on your door so that authorized agents can access your key and show your house. Make sure you respond quickly to messages to set showing appointments. You don't want to miss any showings, so the sooner you confirm the appointment the better. Some buyer agents are working on very short timeframes, and they may eliminate your house from their showing schedule if they don't get a confirmation quickly.
If you are overly paranoid about the lockbox, then hire an agent that is available and will agree to be present at all showings, and entrust your agent with your keys. If you have pets that need removed from the house prior to a showing, then you will need to work something out with your family, friends, neighbors, or your agent, to ensure pets can be removed and cared for at flexible times around showing appointments.
Again . . . this is important . . . if buyers can't see your home within their available time-frame, then they can't buy it. Will you be inconvenienced . . . yes . . . nobody said selling your house was a picnic.
6. PHOTOS ON THE INTERNET ARE UNAPPEALING. Virtually all potential buyers view homes on the internet first. They look at the photos and are quick to eliminate homes from their viewing list that don't look appealing. A picture really is worth a thousand words, and photos that make your home look special are priceless. If your interior photos make your rooms look small, dark and dingy, buyers may quickly cross you off their list. If a photo doesn't help sell your home, then it shouldn't be published.
It doesn't cost much to hire a professional photographer to take appealing photos of your home, inside and out. There are photographers in most areas that have packages available for listings that are reasonably priced. If your current marketing photos don't make your home look great, you can also ask your agent to take new photos, or if you are a pretty good photographer and have a wide-angle lens in your camera, then you should take some photos yourself and provide them to your agent to put online.
Marketing photos should make your home look bright and welcoming. The exterior photos should be taken during the time of day when the lighting is best for that side of the house, and the photos should be taken at an angle that makes the home look interesting. Interior photos should also be taken when there is plenty of light. Use a wide-angle lens and hold the camera higher up in one corner of the room to get the majority of the room in the picture and make the room look larger. We often will stand on a stool for the interior shots to get the height. Also take closeup shots of the interesting selling features, like a beautiful fireplace, cool farmhouse sink, or other features that you love about your house . . . inside and out.
7. YOUR HOME IS NOT CLEAN, IS CLUTTERED OR HAS ODORS. Buyers buy clean houses, and they will pay more for the same house when it is clean, uncluttered, and smells fresh. Your home must be clean and uncluttered.
What to do? The first thing is to get rid of the clutter. Pack away everything you won't need until you move to your new location, like out-of-season clothing, knick-knacks, and also family photos and excess wall hangings that don't add anything to the room. Closets should be half full to make them look more spacious. If your rooms are loaded with excess furniture, put it in storage and keep only the necessary items to create seating groups and ensembles in each room. This makes each room look bigger and makes it easier for buyers to picture themselves living in your home.
Once all the unnecessary items are removed, then clean and polish everything . . . the cleaner the better. Eliminate undesirable odors by cleaning with disinfectants, and have your carpeting and upholstered furniture professionally cleaned. To keep your home smelling fresh use air fresheners like plug-ins that continually keep your home odor free.
Yes, this takes considerable effort, but it is important and well worth the effort.
8. YOUR LOCATION IS NOT THE BEST. There isn't anything you can do about the fact that your house is located in a deteriorating neighborhood or on a busy street, or that there are power lines running adjacent to your back yard. Hopefully you purchased your home for a good price. Now you will need to price your home accordingly so that a new buyer will be compensated for overlooking it's shortcomings. In the case of an issue that can't be changed, the only tool you have is price. You will need to adjust the price until you find a buyer.
These aren't all the reasons houses don't sell. There are plenty of reasons that are unique to a particular home and situation. It helps to pay attention to the feedback from showing agents and their buyer customers. Showing agents will generally share their comments, good and bad, with your agent. The agents and buyers that view your home are out shopping all the other homes that are competing with your home for their offers. Their feedback is valuable.
If you get the sense that your agent doesn't have time for you, or your home has been on the market way too long without addressing the relevant issues discussed above, it may be time to work with a different agent. It's important to hire a local expert . . . a knowledgeable and experienced agent with good marketing and communication skills that has a solid marketing plan to get your home sold.
As always, if you need help or advice, please don't hesitate to contact us. Selling homes is what we do.