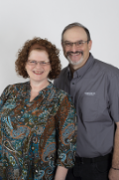 We are excited to be working as a team with the Century 21 Lakeside! Josh has a background as a pastor, healthcare worker, and holds a degree in theology. Kelly is a graduate of Bradford College with a medical transcription background and life-coaching experience.
We have been married for 31 years with two grown children and a "diva" doggy named Princess. We made our home in Columbiana beginning in 2013 and now reside in Salem. We spend a lot of time with our large extended families as well as our church family at St. John the Forerunner Greek Orthodox Church in Boardman.
We have worked as a team for many years in ministry and are looking forward to combining our strengths as a team in real estate providing honesty, reliability and integrity in every client relationship. Josh prioritizes support and collaboration in his work and values quality and accuracy placing the highest priority on people and relationships. Kelly is a conscientious influencer who wants to help you get where you want to go.
We would be honored to help you in preparation to sell your current home providing you with a comparative market analysis to see what you can reasonably expect to sell your home for then listing and marketing your property to find a buyer.
If you are looking to purchase your first home, we will help educate and guide you through the home-buying process. We will help you to understand affordability, your financing options, discover the type of home you are looking for, and making an offer to purchase. We will be with you to navigate the closing process, and then celebrate with you the day you receive the keys to YOUR NEW home!
As recent first-time homebuyers ourselves, we know this is a MAJOR life decision! Let us represent you in this process!