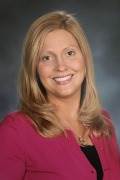 A life-long resident of the Mahoning Valley, Katie Olson graduated from Youngstown State University with a Bachelor's degree in Early Childhood Education. She furthered her education at YSU by getting an endorsement in Educational Technology and then a Master's Degree in Curriculum and Instruction. She is currently a Kindergarten teacher, but has always been passionate about real estate and the housing industry. Her drive to always learn new things and be creative drove her to get a license as a real estate agent. She completed her licensing requires through Youngstown State Metro College.
Katie resides in Poland, Ohio with her husband of twelve years, and their two children. In her spare time she enjoys spending time with her family and attending her kids sporting and school events.
If you are interested in finding not just a house but a place to call a home please contact Katie.