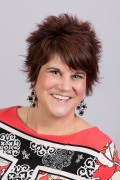 I received my Real Estate License in 2004 after completing the required courses through Youngstown State University's Metro College. While working in the real estate field I received my Accredited Buyer's Representative Certificate and became a Notary Public. I am also a member of the Youngstown Columbiana Association of Realtors and the National Association of Realtors.
As a long-time resident of the Mahoning Valley having grown up in Boardman, I attended Boardman High School where I excelled in softball and became the first female in the history of the high school to be inducted into the Sports Hall of Fame in 2001. I continued my softball career as a walk-on while attending Youngstown State University where I received a bachelor's degree in Applied Science and an associate degree in Applied Business with a specification in Office Services & Administration – Word Processing.
In 1998 I married my late husband, Brad and moved to Canfield where I continue to live and raise my teenage son and daughter.
Before becoming a Real Estate Agent, I held several jobs within the Mahoning-Trumbull County area, all of which dealt with customer service and helping others. My help of others continued after college when I volunteered with Boardman Little League and Boardman High School softball as well as coaching the Canfield Blast, 18 and under fast-pitch girls softball team.
I look forward to working with the dedicated agents at C21 Lakeside in a family friendly environment and I like the fact that C21 Lakeside is a locally managed company with a family first mentality dedicated to helping their agents succeed and stand behind them. C21 Lakeside is not just a real estate company with a family atmosphere it is a family that helps and supports each other.
If I can be of any help in your endeavor of buying or selling a home, please do not hesitate to contact me.
"It is not the employer who pays the wages. Employers only handle the money... It is the customer who pays the wages.
"- Henry Ford, Ford Motor Company
"If you work just for money, you'll NEVER make it, but if you love what you're doing and you ALWAYS PUT THE CUSTOMER first, success will be yours."
– Ray Kroc, Founder of McDonald's
"Courteous treatment will make a customer a Walking Advertisement."
– J.C. Penney