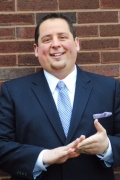 With four years in the industry I bring a great deal of experience and knowledge to buyers and sellers in the Mahoning Valley. People have said that my integrity is one of my best attributes. I'm well organized, detailed, and an accomplished negotiator. This all in part stems from my hard working blue collar work ethic.
Five Star Customer Service! Whether you are purchasing a $20,000 investment property or a luxury home, the level of attention you will get will be top notch. I will patiently walk you through the process, will communicate with you frequently, and will always welcome your questions.
Responsive! My clients are always pleasantly surprised on how quickly I respond to them. While I can't guarantee I will always be able to pick up the phone, I promise that I will respond within a very reasonable time. I guess it is just good time management skills and a dedication to providing superior customer service.
I don't like being sold! Yes, you read that correctly. In some contexts "sales" implies selling you something that might not be quite right for you benefiting the sales person rather than you. I'm here as your consultant to guide you to reach your goal.
Getting You the Best Deal! It doesn't matter where you're buying or selling here in beautiful Northeast Ohio. Some of my best deals have been in areas that I wasn't that familiar with. That is because my research/analytical skills are superb and I know how to negotiate.
ACHIEVEMENTS AND ASSOCIATIONS
2013 Graduate from Hope International University
Certified John Maxwell Speaker, Trainer and Coach
HubSpot Certified
Negotiation Expert
Member of the Warren Area Board of Realtors
Member of the National Association of Realtors
IF YOU ARE BUYING:
I take a no-pressure/honest style in selling homes. For example, I mention the negatives of a house just so you see it for what it is. I don't try to blind you with the positives.
Brutal honesty is my policy! It would be more common for me to talk you out of buying a house then to talk you into one that I know wouldn't work for you. Your best interests are paramount with me even if it takes more work to find the perfect one for you.
IF YOU ARE SELLING:
Getting your home sold fast and for top dollar! Part of what makes me a great listing agent is that I work with a lot of buyers so I know what turns them off and what turns them on. I will give you advice that will make your home look its best. This might be as simple as some clean up, repairs, painting, and staging. Sometimes these little and relatively inexpensive things can make a huge difference in price and decreasing how long a home sits on the market.
The Process of selling a house begins with the primping that I talked about above. The next thing that will be done is professional photos. A complete marketing plan is another key ingredient and my plan exposes your home to my large network of Realtors and countless websites. I will negotiate the best offer possible, coordinate the home inspection, appraisal, lender, and title folks. I will help you with the process up until the day you close.
ON A PERSONAL NOTE:
I'm so happy to call Warren home. I was born and raised in Warren and spent most of my life here in Northeast Ohio. I had brief pit stops in Broken Arrow, OK and Scottsdale, AZ but there is truly no place like home. I definitely have that Midwest blue collar work ethic. However, every now and then I do not mind ditching the fifteen below zero weather and relaxing on a beach somewhere warm.
When I'm not working you will find me on the swimming with my family at the Olympic Club in Warren, enjoying a bike ride, reading good books, anticipating that coveted Cleveland Championship and enjoying all things Ohio State. Go Buckeyes! Free time is at a premium as much of it is spent with my three-year-old son and seven-month old baby girl.