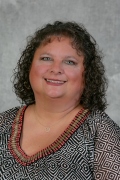 Carol and her husband Mike have lived in Calcutta for 25 years. They have 3 children, Josh who is a 4th year Engineering student and twin girls, Emily, a 2nd year Engineering student and Grace, a 2nd year Visual Communication Design student.
She built and ran a very successful business in Calcutta called Golden Pond Pet Camp. Her past job experience includes a program administrator for the Columbia Gas CAP program and an Investigator for the District Attorneys Office.
Carol has enjoyed watching her children participate in their high school sports that included Baseball, Basketball, Volleyball, Tennis, Soccer, Track And Cross Country. She has enjoyed traveling in the US as well as to Ireland, Germany, Slovenia, Italy and Croatia. She loves cooking, canning, meeting and getting to know new people.
"The thing that I love the most about this job are the people that I meet on a daily basis. I love getting to know them and their stories." said Carol. "Finding you the right home or helping you sell the home that you are ready to move on from is my top priority. I will work tirelessly for you until you are happy."
"After all There's no place like home!"