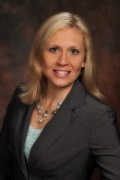 As well as being a professional Realtor, Amanda Frost has more 15 years banking experience, the last ten of which have been concentrated in her special area of business banking and relationships management.
Although she has been recognized with multiple awards for her business banking achievements, the Baldwin Wallace honors graduate has also been quite active in community service, serving for the last 7 years as Executive Director of Columbiana County Leadership Council, and being a member of Simply DeVine Way Station Gala Committee, Youngstown Junior League, and Poland Rotary, where she originated and organized the annual Derby Dash charity run.
Ms. Frost is also well known for her award nominated theatrical talent with local community theaters, and has earned renown as a world class trathlete, being the reigning Midwest U.S. Champion in Xterra Off Road Triaththlon, where she recently returned from placing at the World Championship in Maui, Hawaii.
"I am really eager to bring a new innovative approach to the real estate industry. Through my many years in banking, I have learned the value of relationship building and gaining the clients trust in all transactions," the Columbiana native says. "I have learned that the real difference between agents is most importantly in the level of personal service I give to my clients."